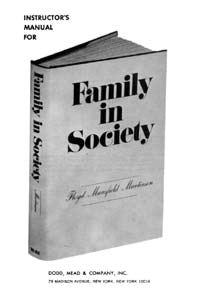 Instructor's Manual for Family in Society
by Martinson, Floyd M. (Floyd Mansfield), 1916-2000
and Martinson, Beatrice Awes
First published by Dodd, Mead & Company, Inc. (New York, USA), 1970.
This edition by Books Reborn, July 2001.
Copyright © 1970 Dodd, Mead & Company, Inc.
i, 58 p. ; 24 cm.
This edition of Instructor's Manual for Family in Society has been OCR scanned from the 1970 edition for publication on the Internet. Pagination and layout of this edition closely mimics that of the 1970 edition, so references to specific pages of that edition remain valid here. The original copyright holder, Dodd Mead & Company, ceased business around 1989. It is assumed that the copyright on this volume reverted to Floyd Martinson at that time. Copyrights owned by Floyd Martinson were inherited by his widow, Beatrice Awes Martinson, after his death in 2000. Beatrice Awes Martinson has given permission to Books Reborn for this book to be made available to the public on the Internet. She retains all rights to this work.
Read/download the book: [ PDF (305 K) | HTML (213 K) | HTML.zip (58 K) ]
See also: Family in Society.